Who's the artist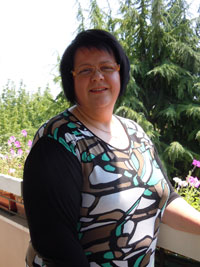 Paola Cristina Piva, from Vittorio Veneto (TV), began her training as an artist in 1981 in the studio of the artist Carmen Baldo. She also completed formal training in antique porcelain decoration and in ceramics restoration. In 1998 she opened her own workshop where, by professional choice, she uses traditional third fire and non-toxic colour decoration methods. Her work has been displayed in a number of exhibitions throughout the Veneto. One of her works, "Il Cristo addolorato" (Christ in Agony), is on display in the Vittorio Veneto Museo di Arte Sacra (Sacred Art Museum). With care, precision, and attention to the finest detail, to shades and tones (in what is a necessarily limited range of colours) the objects she decorates are the expression of her artistic sensitivity. Paola Cristina is continuously experimenting, as she strives to develop her own style by exploring the art form as is developed from the classical to the modern.
Beauty will never fade away
In this standardized and homogenized world, there is a solution out of the ordinary: the originality and unicity of a decorated object. And this is possible because in Paola Decor studio the artist develops a modern personal style in the deepest respect of 18th century decoration techniques, and everything is strictly hand-painted with non-toxic colours. Modern but also classic original decorations, that fit perfectly both with classic and modern furniture; pale and soft colours; the ability of filling the surface of an object without distorting it, taking care of giving it balance and elegance in order to enhance its structure and details: these are Paola Cristina's secrets. The harmony between object, colour and shape distinguishes the kind of decoration she provides. There are a lot of different decorators and styles all over the world, but Paola Cristina gives unicity and ability to her love for colours. She says «I paint a part of me in every single object». She is shy, as many artists are, but she lights up every time she talks about her passion.